Montag, 20. Juli 2015 von heikoheftich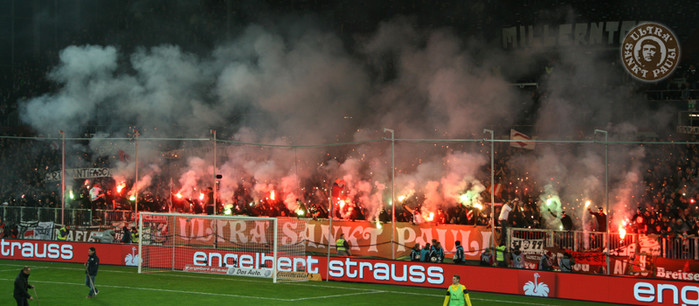 HIER geht's zum Saison-Rückblick auf alerta-network.org
[…] On the final day of the season, away in Darmstadt, we finally secured confirmation that we would stay in the second division. Fans celebrated on the pitch. The key moment though was still to follow. The coach was conducting a TV interview, when the president came over. He apologised to the camera, and explained that the interview would have to stop. The reason? Because they both needed to catch a tram to the station, before boarding the football special back to Hamburg with the fans.

The spirit of Sankt Pauli is back!
FORZA FCSP! Die einzige Möglichkeit!
Kategorie: Art, Cops, FC St. Pauli, Link, Musik, Photographie, Politisches, Video | Kommentare deaktiviert für USP Saison-Rückblick 2014/2015 (alerta-network.org)
Sonntag, 19. Juli 2015 von heikoheftich
Danke an Tho von THEO für den Musik-Hinweis!
Die feministische HC-Band Anti-Corpos ist aktuell auf Europa-Tour.
Kategorie: Link, Musik, Politisches, Video | Kommentare deaktiviert für Musik am Sonntag: Anti-Corpos – Sororidade
Sonntag, 12. Juli 2015 von heikoheftich
Ein herrliches Auswärtswochenende im Juli ("St. Pauli international") mit tollen Menschen inkl. Fährfahrt, Fahrradfahren, St. Pauli-Minibar, Christiania, Fussball und bestem Wetter! FORZA FCSP!
(und auch ein Hooligan-Angriff auf die Bar, Nägel und Schrauben auf dem Spielfeld und Nazi-Schmierereien am Vereinsheim von BK Frem können St. Pauli nicht stoppen…!)
Bewegte Bilder vom Freundschaftsspiel gegen BK Frem Kopenhagen auf lokalupdate.dk
Bewegte Bilder auf fcstpauli.tv
Ausflugsbilder bei Ultrà Sankt Pauli
Tagebuch bei den Blocknachbarn
Kategorie: FC St. Pauli, Link, Photographie, Politisches, Streetart, Video | Kommentare deaktiviert für St. Pauli international: "Europapokal"-Testkick in Kopenhagen 2015
Samstag, 11. Juli 2015 von heikoheftich
Keko Yoma, from Chili, use the ADM as their home-base, already for 5 years in succession, when they do an European tour
Of course they play also on our own stage during such a period (and cook lovely authentic Chilean food as well ;-)
It's always a pleasure to have them around!

This recording was done in July 2015 on board the boat of "Old Frans".
Video-editing by Giuliana
=======================

The Cultural Free-haven ADMamsterdam is currently seriously threatened with eviction by the owners of the terrain (Amstellimo BV and Chidda vastgoed BV) owned by the heirs of the infamous and mafia related real-estate speculator, Bertus Lüske
They claim to have signed a lease with Koole Maritime BV, which starts out on October 1st. 2015
They summoned us to leave before August 1st. 2015 (and to take everything with us!), or face a fine of 50.000 euro's for every day after this date
Three (!) separate legal procedures have been started against us, as of yet

Around 130 residents, ranging from 0 to 80, are currently living between hope and fear
For almost 18 years we've been creating a sustainable community, turning an abandoned and derelict shipbuilding-yard on the outskirts of Amsterdam, into a life laboratory and oasis for the free-spirited and thinkers, in co-operation with the nature around us, by our own means, and with no single cent of subsidy

All over the terrain there are various protected bird species, mammals and wild-flowers to be found, (So far officially established: natterjacks, bats, owls and orchids)

We've hosted around 900 concerts, 100 benefit-events for 3rd. parties, 40 festivals, 10 WinterGames, 7 Bakbrommer-races, 5 Robodocks, 3 SleazeFests and countless other public events

We also support and perform at various other festivals and events in the Netherlands, Europe and the world.
From Oerol to Fusion (DE) and BurningMan (USA) and from RollendeKeukens to TerraMadre(IT) and Macau (HongKong)

Support us by signing our petition that urges the mayor of Amsterdam to intervene
Go to: adm.amsterdam/petition

There's no (main-stream)culture without sub-culture!
Stop the speculation with the ADM-terrain!
The ADM belongs to the people!
Support the ADM – Sign the petition!
Kategorie: Art, Link, Musik, Photographie, Politisches, Video | Kommentare deaktiviert für Der ADM in Amsterdam muss bleiben!
Dienstag, 7. Juli 2015 von heikoheftich
lovely home-recorded banjo punk and acoustic feminist hardcore to please your ears with

tags: diy punk banjo feminist folk punk riot grrl Brighton
Vielen Dank an Thekla von THEO für diesen Musik-Tipp!
Unterstützt Thekla! Der Wagenplatz ADM auf dem meine Schwester wohnt, ist akut von einer Räumung bedroht. Hier könnt ihr Unterstützer oder Unterstützerin werden!
Solltet ihr den ADM in Amsterdam nicht kennen, könnt ihr Euch for free ein liebevoll gestaltetes Booklet herunterladen. Support the cultural freehaven ADM!
Kategorie: Art, Cops, Link, Musik, Politisches | Kommentare deaktiviert für Alerta, alerta: Momma Swift – The Wild Is Calling To Our Minds
Montag, 18. Mai 2015 von heikoheftich
KIEL EXPLODE Festival Vol. 5 – final line-up 2015

1. ANCST (Post Black Metal – Berlin)

2. DAILY RITUAL (Punkrock – Singapur)

3. CLOUD RAT (Grindcore – USA)

4. RED APOLLO (dark HC/Metal – Dortmund)

5. THRÄNENKIND (Post Rock/Metal – München-Hamburg)

6. PHANTOM WINTER (Doom/Sludge – Würzburg)

7. THE TIDAL SLEEP (Screamo/Post-HC – Mannheim…Leipzig)

8. THURM (Screamo/Post Black Metal – Marburg)

9. BLACK EVEREST (Screamo-HC – Hamburg/Oldenburg)

Einlass: 15.00 Uhr – doors open: 3pm

Kaffee & Kuchen (vegan): 15.00 Uhr – veganes deluxe Kuchenbuffet, das einem die Gesichtszüge entgleisen lässt… – coffee & vegan deluxe cake buffet: 3pm

Start der Bands: 16.00 Uhr – start: 4pm
Mehr Informationen zu dieser Veranstaltung an der Kieler Förde findet ihr auf der Webseite der Alte Meierei in Kiel oder auf kielexplode.tumblr.com.
Hingehen!
Kategorie: Link, Musik, Politisches | Kommentare deaktiviert für Kiel Explode Vol. 5 am 20. Juni 2015
Donnerstag, 14. Mai 2015 von heikoheftich
Wolf Down on Tour:
24.05. DE – Hamburg – Hafenklang
25.05. DE – Münster – Café Lorenz
26.05. DE – Halle (Saale) – VL Ludwigstrasse
27.05. DE – Regensburg – Alte Mälzerei + ANTI FLAG
28.05. DE – Schweinfurt – Alter Stattbahnhof
29.05. DE – Nürtingen – Jugendhaus am Bahnhof

04.06. DE – Aachen – AZ Aachen
26.07. DE – Berlin – Resist To Exist
15.08. DE – Hohenstein-Ernstthal – Voice Of Art Fest
Danke an THO von THEO für den Musiktipp!
Kategorie: Link, Musik, Politisches, Video | Kommentare deaktiviert für Musik am Donnerstag: Wolf Down – Flames Of Discontent