Montag, 20. Juli 2015 von heikoheftich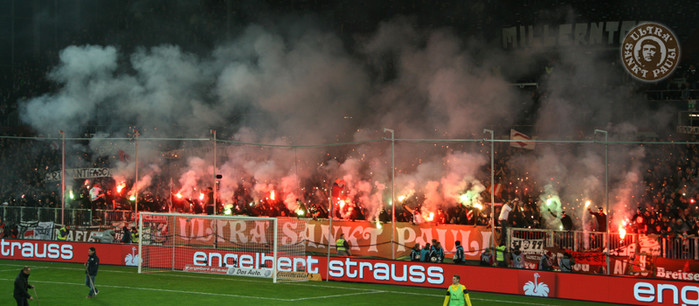 HIER geht's zum Saison-Rückblick auf alerta-network.org
[…] On the final day of the season, away in Darmstadt, we finally secured confirmation that we would stay in the second division. Fans celebrated on the pitch. The key moment though was still to follow. The coach was conducting a TV interview, when the president came over. He apologised to the camera, and explained that the interview would have to stop. The reason? Because they both needed to catch a tram to the station, before boarding the football special back to Hamburg with the fans.

The spirit of Sankt Pauli is back!
FORZA FCSP! Die einzige Möglichkeit!
Kategorie: Art, Cops, FC St. Pauli, Link, Musik, Photographie, Politisches, Video | Kommentare deaktiviert für USP Saison-Rückblick 2014/2015 (alerta-network.org)